Our Mission is to leave the planet cleaner, healthier and more vibrant than when we arrived!
In order to do this we need to follow some principles which we believe will lead to a better world for everyone...
SUSTAINABLE SOAP
For us sustainability means that our company will still be here producing products in more or less the same way in 50 or 100 years time. Of course as our company expands we will employ more staff, use more industrial production methods to produce at scale, but our recipes, raw material sources and ethics will remain stable throughout. 
So in our products are all natural ingredients, generally source locally, almost always organic. Further, our company structure is built around equality, with a 3:1 wage difference ratio built in from the beginning. This means no one in the company will ever be able to earn more than three times that of the lowest paid employee, be that temporary or permanent. 
And finally we do not follow fashions, meaning that our products have no trend end date... We only create products that have a specific purpose: wash oily hair, cure dry lips, treat a dry beard etc and once we have recipes that work we stick with them. There is no need to continually update products once they work just fine.
ORGANIC COSMETICS.
Our products are 100% organic (although as of yet uncertified). In our soaps we use Olive Oil from our own organic trees, essential oils from a certified organic company called Aromas do Valado in Portugal, water, caustic soda and occasionally fragrances. 
We believe that agricultural chemicals should be phased out as soon as is feasibly possible. This is no easy task as much of our agricultural industry is built around chemical dependency. Our hope is that by fully removing chemicals from our farmlands we can move towards organic food for everyone, not just those with the means to afford it. 

Click for current ingredients in all of our products.
BIODEGRADEABLE SOAP BARS.
Our soap is made with all natural ingedients meaning they are biodegradeable and safe to use when camping or in natural grey water systems.
NO ANIMAL TESTING.
We use tried and tested soap recipes to ensure they are safe on skin. When experimenting with new ingredients and fragrances we will test on ourselves first.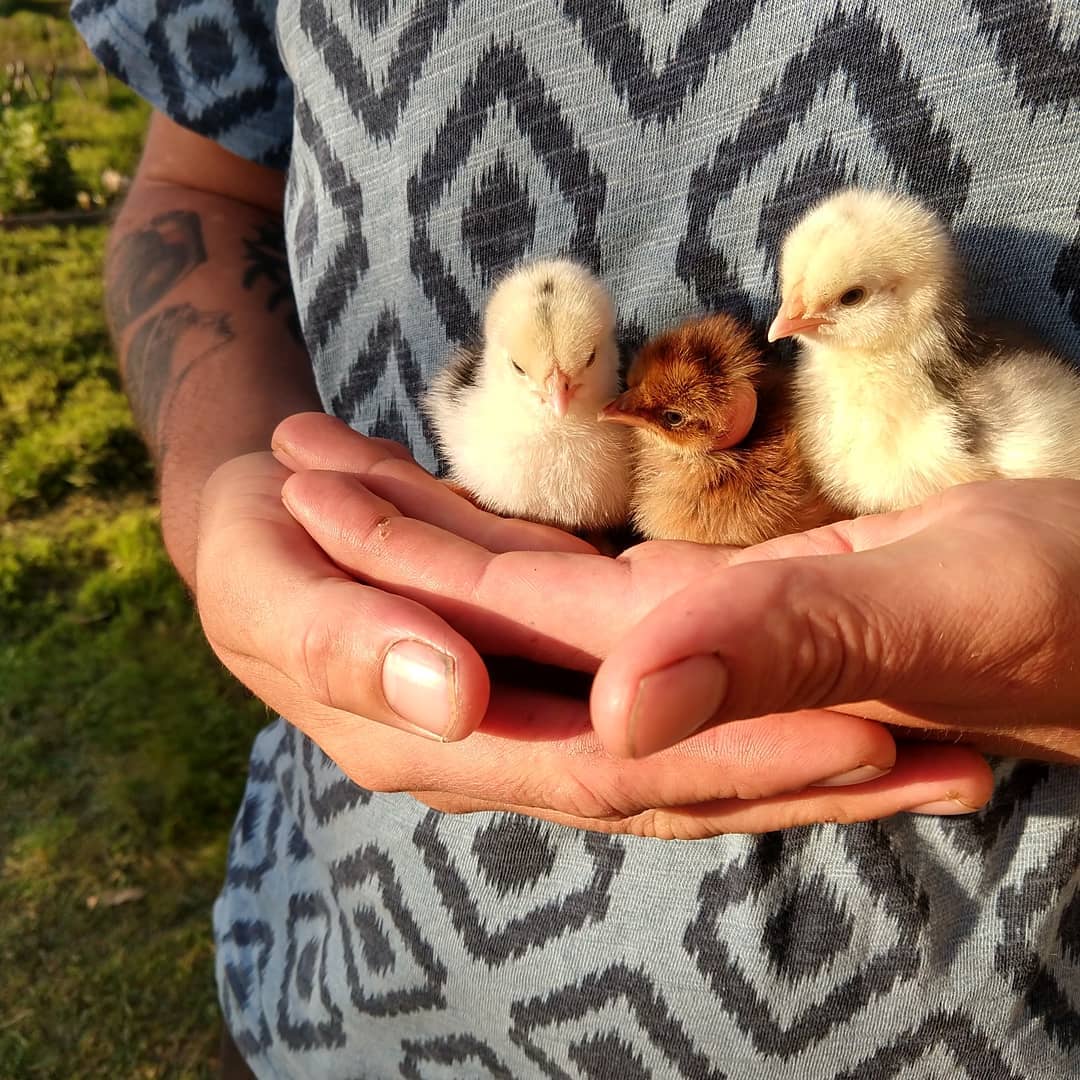 - one day old chicks hatched at our farm -

PALM OIL FREE.
Olive oil is the only oil we use in our soaps. Although we sacrifice some of the usability benefits of coconut, avocado or palm we feel that our soaps are great with oils produced right here in our village so importing tropical butters over long distances doesnt fit our ethos
CRUELTY FREE
No animal products are used in our soaps. We do however recognise the importance of animals within agricultural permaculture ecosystems so we use our ducks and chickens for organic pest control, fertilisation and light ground disturbance and maintainence. We also keep bees to pollinate our garden and trees as well as providing us with honey and wax for our products. 
100% RECYCLED PAPER.
Unless you request a naked soap, our packaging consists of a small card with our business information tied to the soap with a natural fibre. The cards are made from 100% post consumer recycled paper.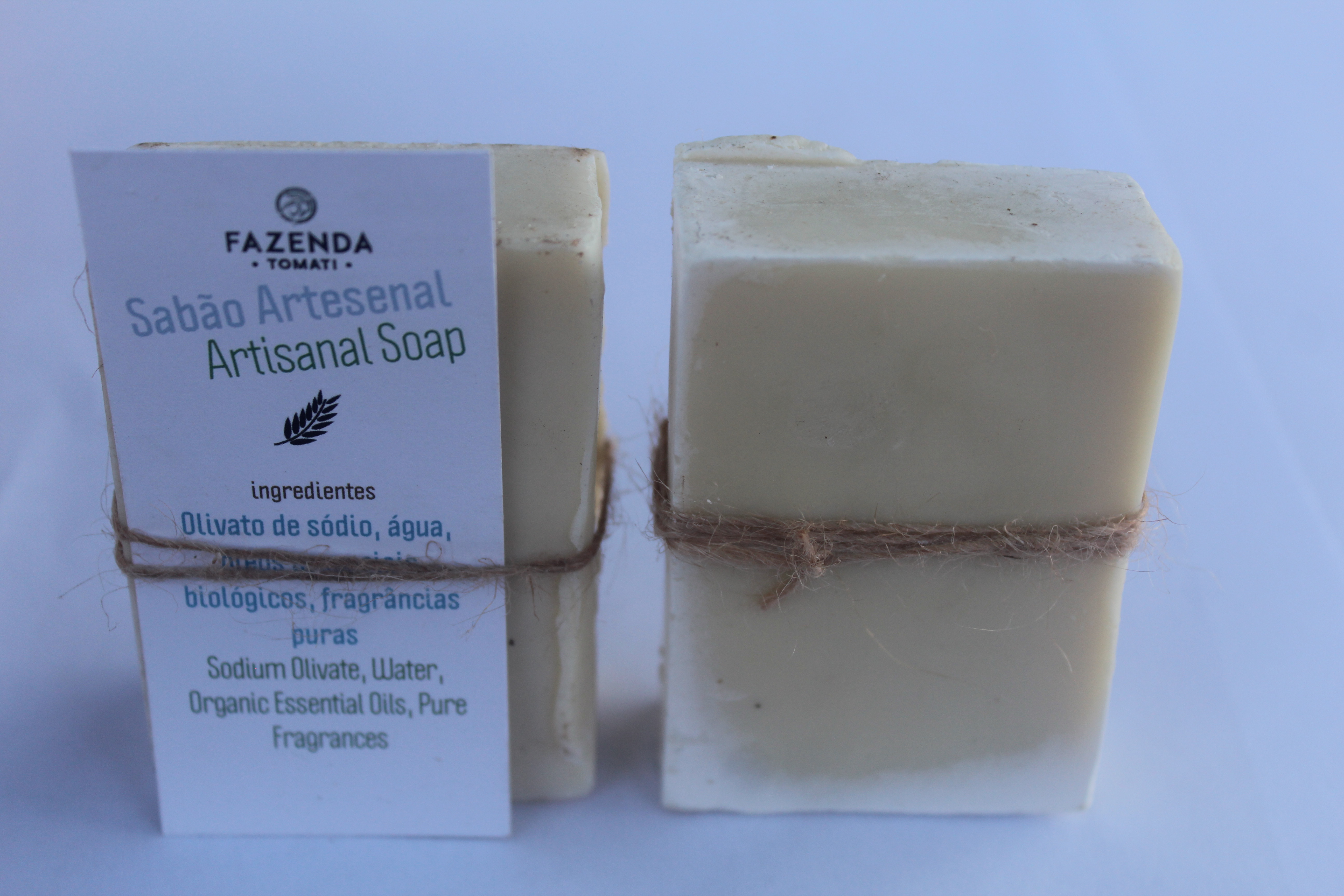 FIGHTING FOR EQUALITY AND JUSTICE IN FOOD & AGRICULTURE
There is a major problem in agriculture and it is probably being amplified by capitalism. The issue we are facing is that organic (and now more so Regenerative Organic) products are unaffordable for part of the population and that means that our system is pricing people out of healthy food and a healthy life.
We believe this is hugely unethical but is a result of the system we live under. We do not have the answer: lower the price of organic products somehow? or raise all wages so everyone can afford it? One solution we see to this issue is employee/cooperative/citizen ownership of ALL businesses, with limits on wage disparity within companies (owners only being permitted to earn 3 times that of the lowest paid employee for example). Eliminating shares within companies is another option. However it will be an ongoing challenge to elevate ethical businesses and call out those who are taking profits for themselves.
It is a massive task but we can make a start on a better future by forming ethical businesses now.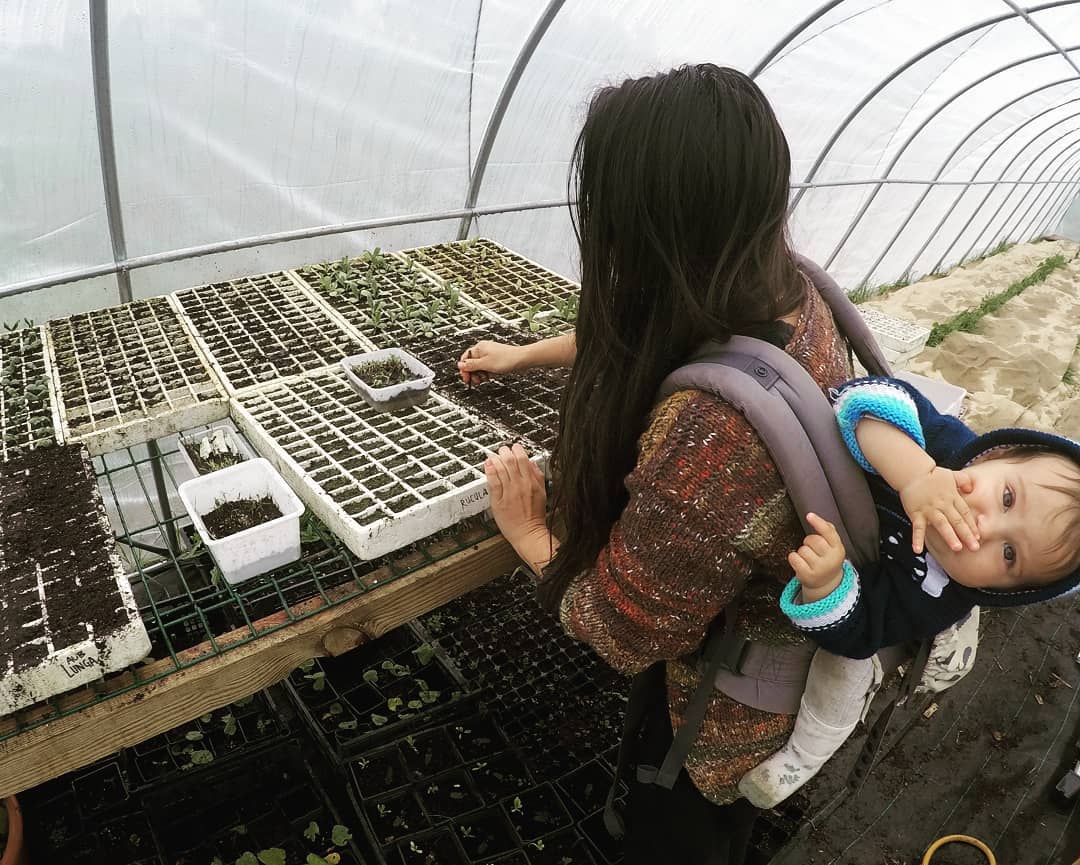 - Mati in the greenhouse sowing seeds in Spring - 
FOSTERING BIODIVERSITY ON OUR FARMLANDS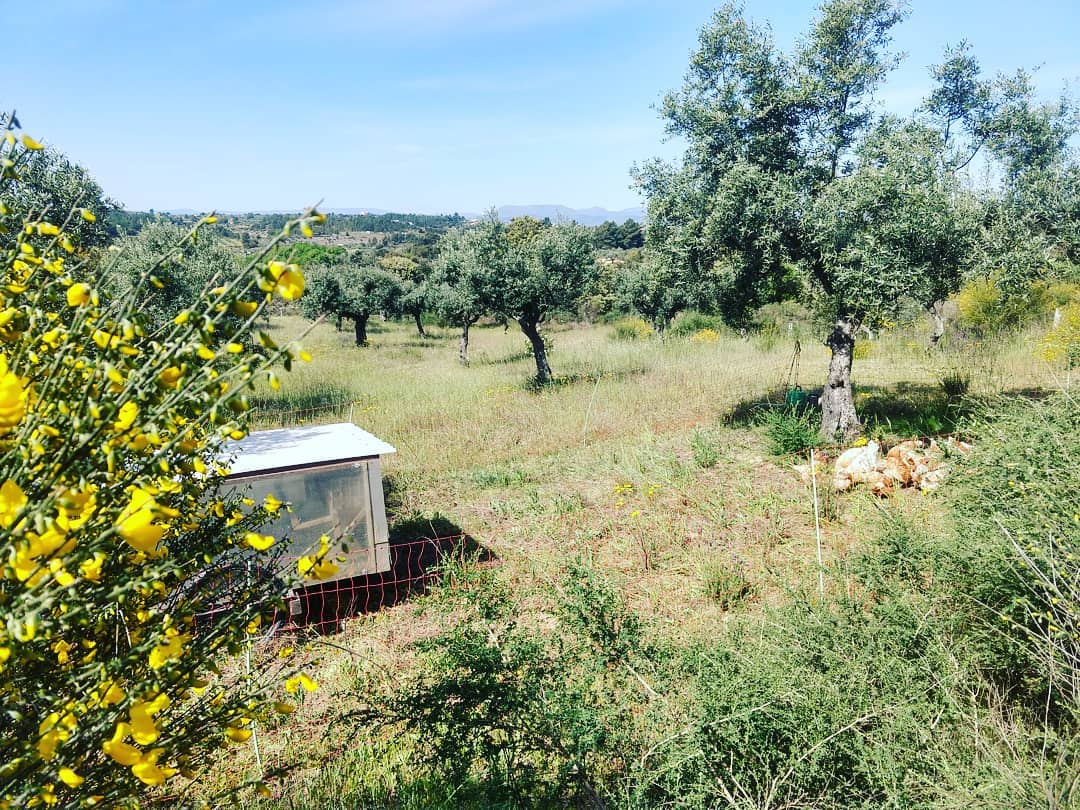 - our chicken tractor at the top of our main orchard ready to go through managing pests, scarifying the soil and fertilising the olive trees - 

Biodiversity loss is one of the major issues facing our ecosystems and as a result our species. Biodiversity is key to healthy ecosystems which keep air, water and soil clean for all of us.
On our farm we practice Permaculture  techniques. 
This means we respect all life on our farm, from the bacteria and fungus in our soil to the snakes and scorpions in the grass and rocks. We work hard to manage water and nutrient cycles through our land and manage our plants and flowers to support the most life possible. 
We believe that on unmanaged, unused land, rewilding can be a great option, but on agricultural lands, strong human influence can be the best approach to increasing biodiversity, health, water retention and soil carbon. Excluding humans from the natural world is not the answer and by working with indigenous peoples as well as farmers we can truly heal our Planet Earth 
By supporting our communities as well as ethically managed businesses, together we can create a cleaner, healthier and more vibrant world!
@import url(https://static.mailerlite.com/assets/plugins/groot/modules/includes/groot_fonts/import.css?version=1637666);
.ml-form-embedSubmitLoad{display:inline-block;width:20px;height:20px}.g-recaptcha{transform:scale(1);-webkit-transform:scale(1);transform-origin:0 0;-webkit-transform-origin:0 0}.sr-only{position:absolute;width:1px;height:1px;padding:0;margin:-1px;overflow:hidden;clip:rect(0,0,0,0);border:0}.ml-form-embedSubmitLoad:after{content:" ";display:block;width:11px;height:11px;margin:1px;border-radius:50%;border:4px solid #fff;border-color:#fff #fff #fff transparent;animation:ml-form-embedSubmitLoad 1.2s linear infinite}@keyframes ml-form-embedSubmitLoad{0%{transform:rotate(0)}100%{transform:rotate(360deg)}}#mlb2-5085572.ml-form-embedContainer{box-sizing:border-box;display:table;margin:0 auto;position:static;width:100%!important}#mlb2-5085572.ml-form-embedContainer button,#mlb2-5085572.ml-form-embedContainer h4,#mlb2-5085572.ml-form-embedContainer p,#mlb2-5085572.ml-form-embedContainer span{text-transform:none!important;letter-spacing:normal!important}#mlb2-5085572.ml-form-embedContainer .ml-form-embedWrapper{background-color:#f6f6f6;border-width:0;border-color:transparent;border-radius:4px;border-style:solid;box-sizing:border-box;display:inline-block!important;margin:0;padding:0;position:relative}#mlb2-5085572.ml-form-embedContainer .ml-form-embedWrapper.embedDefault,#mlb2-5085572.ml-form-embedContainer .ml-form-embedWrapper.embedPopup{width:400px}#mlb2-5085572.ml-form-embedContainer .ml-form-embedWrapper.embedForm{max-width:400px;width:100%}#mlb2-5085572.ml-form-embedContainer .ml-form-align-left{text-align:left}#mlb2-5085572.ml-form-embedContainer .ml-form-align-center{text-align:center}#mlb2-5085572.ml-form-embedContainer .ml-form-align-default{display:table-cell!important;vertical-align:middle!important;text-align:center!important}#mlb2-5085572.ml-form-embedContainer .ml-form-align-right{text-align:right}#mlb2-5085572.ml-form-embedContainer .ml-form-embedWrapper .ml-form-embedHeader img{border-top-left-radius:4px;border-top-right-radius:4px;height:auto;margin:0 auto!important;max-width:100%;width:undefinedpx}#mlb2-5085572.ml-form-embedContainer .ml-form-embedWrapper .ml-form-embedBody,#mlb2-5085572.ml-form-embedContainer .ml-form-embedWrapper .ml-form-successBody{padding:20px 20px 0 20px}#mlb2-5085572.ml-form-embedContainer .ml-form-embedWrapper .ml-form-embedBody.ml-form-embedBodyHorizontal{padding-bottom:0}#mlb2-5085572.ml-form-embedContainer .ml-form-embedWrapper .ml-form-embedBody .ml-form-embedContent,#mlb2-5085572.ml-form-embedContainer .ml-form-embedWrapper .ml-form-successBody .ml-form-successContent{text-align:left;margin:0 0 20px 0}#mlb2-5085572.ml-form-embedContainer .ml-form-embedWrapper .ml-form-embedBody .ml-form-embedContent h4,#mlb2-5085572.ml-form-embedContainer .ml-form-embedWrapper .ml-form-successBody .ml-form-successContent h4{color:#000;font-family:'Open Sans',Arial,Helvetica,sans-serif;font-size:30px;font-weight:400;margin:0 0 10px 0;text-align:left;word-break:break-word}#mlb2-5085572.ml-form-embedContainer .ml-form-embedWrapper .ml-form-embedBody .ml-form-embedContent p,#mlb2-5085572.ml-form-embedContainer .ml-form-embedWrapper .ml-form-successBody .ml-form-successContent p{color:#000;font-family:'Open Sans',Arial,Helvetica,sans-serif;font-size:14px;font-weight:400;line-height:20px;margin:0 0 10px 0;text-align:left}#mlb2-5085572.ml-form-embedContainer .ml-form-embedWrapper .ml-form-embedBody .ml-form-embedContent ol,#mlb2-5085572.ml-form-embedContainer .ml-form-embedWrapper .ml-form-embedBody .ml-form-embedContent ul,#mlb2-5085572.ml-form-embedContainer .ml-form-embedWrapper .ml-form-successBody .ml-form-successContent ol,#mlb2-5085572.ml-form-embedContainer .ml-form-embedWrapper .ml-form-successBody .ml-form-successContent ul{color:#000;font-family:'Open Sans',Arial,Helvetica,sans-serif;font-size:14px}#mlb2-5085572.ml-form-embedContainer .ml-form-embedWrapper .ml-form-embedBody .ml-form-embedContent ol ol,#mlb2-5085572.ml-form-embedContainer .ml-form-embedWrapper .ml-form-successBody .ml-form-successContent ol ol{list-style-type:lower-alpha}#mlb2-5085572.ml-form-embedContainer .ml-form-embedWrapper .ml-form-embedBody .ml-form-embedContent ol ol ol,#mlb2-5085572.ml-form-embedContainer .ml-form-embedWrapper .ml-form-successBody .ml-form-successContent ol ol ol{list-style-type:lower-roman}#mlb2-5085572.ml-form-embedContainer .ml-form-embedWrapper .ml-form-embedBody .ml-form-embedContent p a,#mlb2-5085572.ml-form-embedContainer .ml-form-embedWrapper .ml-form-successBody .ml-form-successContent p a{color:#000;text-decoration:underline}#mlb2-5085572.ml-form-embedContainer .ml-form-embedWrapper .ml-block-form .ml-field-group{text-align:left!important}#mlb2-5085572.ml-form-embedContainer .ml-form-embedWrapper .ml-block-form .ml-field-group label{margin-bottom:5px;color:#333;font-size:14px;font-family:'Open Sans',Arial,Helvetica,sans-serif;font-weight:700;font-style:normal;text-decoration:none;display:inline-block;line-height:20px}#mlb2-5085572.ml-form-embedContainer .ml-form-embedWrapper .ml-form-embedBody .ml-form-embedContent p:last-child,#mlb2-5085572.ml-form-embedContainer .ml-form-embedWrapper .ml-form-successBody .ml-form-successContent p:last-child{margin:0}#mlb2-5085572.ml-form-embedContainer .ml-form-embedWrapper .ml-form-embedBody form{margin:0;width:100%}#mlb2-5085572.ml-form-embedContainer .ml-form-embedWrapper .ml-form-embedBody .ml-form-checkboxRow,#mlb2-5085572.ml-form-embedContainer .ml-form-embedWrapper .ml-form-embedBody .ml-form-formContent{margin:0 0 20px 0;width:100%}#mlb2-5085572.ml-form-embedContainer .ml-form-embedWrapper .ml-form-embedBody .ml-form-checkboxRow{float:left}#mlb2-5085572.ml-form-embedContainer .ml-form-embedWrapper .ml-form-embedBody .ml-form-formContent.horozintalForm{margin:0;padding:0 0 20px 0;width:100%;height:auto;float:left}#mlb2-5085572.ml-form-embedContainer .ml-form-embedWrapper .ml-form-embedBody .ml-form-fieldRow{margin:0 0 10px 0;width:100%}#mlb2-5085572.ml-form-embedContainer .ml-form-embedWrapper .ml-form-embedBody .ml-form-fieldRow.ml-last-item{margin:0}#mlb2-5085572.ml-form-embedContainer .ml-form-embedWrapper .ml-form-embedBody .ml-form-fieldRow.ml-formfieldHorizintal{margin:0}#mlb2-5085572.ml-form-embedContainer .ml-form-embedWrapper .ml-form-embedBody .ml-form-fieldRow input{background-color:#fff!important;color:#333!important;border-color:#ccc;border-radius:4px!important;border-style:solid!important;border-width:1px!important;font-family:'Open Sans',Arial,Helvetica,sans-serif;font-size:14px!important;height:auto;line-height:21px!important;margin-bottom:0;margin-top:0;margin-left:0;margin-right:0;padding:10px 10px!important;width:100%!important;box-sizing:border-box!important;max-width:100%!important}#mlb2-5085572.ml-form-embedContainer .ml-form-embedWrapper .ml-form-embedBody .ml-form-fieldRow input::-webkit-input-placeholder,#mlb2-5085572.ml-form-embedContainer .ml-form-embedWrapper .ml-form-embedBody .ml-form-horizontalRow input::-webkit-input-placeholder{color:#333}#mlb2-5085572.ml-form-embedContainer .ml-form-embedWrapper .ml-form-embedBody .ml-form-fieldRow input::-moz-placeholder,#mlb2-5085572.ml-form-embedContainer .ml-form-embedWrapper .ml-form-embedBody .ml-form-horizontalRow input::-moz-placeholder{color:#333}#mlb2-5085572.ml-form-embedContainer .ml-form-embedWrapper .ml-form-embedBody .ml-form-fieldRow input:-ms-input-placeholder,#mlb2-5085572.ml-form-embedContainer .ml-form-embedWrapper .ml-form-embedBody .ml-form-horizontalRow input:-ms-input-placeholder{color:#333}#mlb2-5085572.ml-form-embedContainer .ml-form-embedWrapper .ml-form-embedBody .ml-form-fieldRow input:-moz-placeholder,#mlb2-5085572.ml-form-embedContainer .ml-form-embedWrapper .ml-form-embedBody .ml-form-horizontalRow input:-moz-placeholder{color:#333}#mlb2-5085572.ml-form-embedContainer .ml-form-embedWrapper .ml-form-embedBody .ml-form-fieldRow textarea,#mlb2-5085572.ml-form-embedContainer .ml-form-embedWrapper .ml-form-embedBody .ml-form-horizontalRow textarea{background-color:#fff!important;color:#333!important;border-color:#ccc;border-radius:4px!important;border-style:solid!important;border-width:1px!important;font-family:'Open Sans',Arial,Helvetica,sans-serif;font-size:14px!important;height:auto;line-height:21px!important;margin-bottom:0;margin-top:0;padding:10px 10px!important;width:100%!important;box-sizing:border-box!important;max-width:100%!important}#mlb2-5085572.ml-form-embedContainer .ml-form-embedWrapper .ml-form-embedBody .ml-form-checkboxRow .label-description::before,#mlb2-5085572.ml-form-embedContainer .ml-form-embedWrapper .ml-form-embedBody .ml-form-embedPermissions .ml-form-embedPermissionsOptionsCheckbox .label-description::before,#mlb2-5085572.ml-form-embedContainer .ml-form-embedWrapper .ml-form-embedBody .ml-form-fieldRow .custom-checkbox .custom-control-label::before,#mlb2-5085572.ml-form-embedContainer .ml-form-embedWrapper .ml-form-embedBody .ml-form-fieldRow .custom-radio .custom-control-label::before,#mlb2-5085572.ml-form-embedContainer .ml-form-embedWrapper .ml-form-embedBody .ml-form-horizontalRow .custom-checkbox .custom-control-label::before,#mlb2-5085572.ml-form-embedContainer .ml-form-embedWrapper .ml-form-embedBody .ml-form-horizontalRow .custom-radio .custom-control-label::before,#mlb2-5085572.ml-form-embedContainer .ml-form-embedWrapper .ml-form-embedBody .ml-form-interestGroupsRow .ml-form-interestGroupsRowCheckbox .label-description::before{border-color:#ccc!important;background-color:#fff!important}#mlb2-5085572.ml-form-embedContainer .ml-form-embedWrapper .ml-form-embedBody .ml-form-fieldRow input.custom-control-input[type=checkbox]{box-sizing:border-box;padding:0;position:absolute;z-index:-1;opacity:0;margin-top:5px;margin-left:-1.5rem;overflow:visible}#mlb2-5085572.ml-form-embedContainer .ml-form-embedWrapper .ml-form-embedBody .ml-form-checkboxRow .label-description::before,#mlb2-5085572.ml-form-embedContainer .ml-form-embedWrapper .ml-form-embedBody .ml-form-embedPermissions .ml-form-embedPermissionsOptionsCheckbox .label-description::before,#mlb2-5085572.ml-form-embedContainer .ml-form-embedWrapper .ml-form-embedBody .ml-form-fieldRow .custom-checkbox .custom-control-label::before,#mlb2-5085572.ml-form-embedContainer .ml-form-embedWrapper .ml-form-embedBody .ml-form-horizontalRow .custom-checkbox .custom-control-label::before,#mlb2-5085572.ml-form-embedContainer .ml-form-embedWrapper .ml-form-embedBody .ml-form-interestGroupsRow .ml-form-interestGroupsRowCheckbox .label-description::before{border-radius:4px!important}#mlb2-5085572.ml-form-embedContainer .ml-form-embedWrapper .ml-form-embedBody .ml-form-checkboxRow input[type=checkbox]:checked~.label-description::after,#mlb2-5085572.ml-form-embedContainer .ml-form-embedWrapper .ml-form-embedBody .ml-form-embedPermissions .ml-form-embedPermissionsOptionsCheckbox input[type=checkbox]:checked~.label-description::after,#mlb2-5085572.ml-form-embedContainer .ml-form-embedWrapper .ml-form-embedBody .ml-form-fieldRow .custom-checkbox .custom-control-input:checked~.custom-control-label::after,#mlb2-5085572.ml-form-embedContainer .ml-form-embedWrapper .ml-form-embedBody .ml-form-horizontalRow .custom-checkbox .custom-control-input:checked~.custom-control-label::after,#mlb2-5085572.ml-form-embedContainer .ml-form-embedWrapper .ml-form-embedBody .ml-form-interestGroupsRow .ml-form-interestGroupsRowCheckbox input[type=checkbox]:checked~.label-description::after{background-image:url("data:image/svg+xml,%3csvg xmlns='http://www.w3.org/2000/svg' viewBox='0 0 8 8'%3e%3cpath fill='%23fff' d='M6.564.75l-3.59 3.612-1.538-1.55L0 4.26 2.974 7.25 8 2.193z'/%3e%3c/svg%3e")}#mlb2-5085572.ml-form-embedContainer .ml-form-embedWrapper .ml-form-embedBody .ml-form-fieldRow .custom-radio .custom-control-input:checked~.custom-control-label::after{background-image:url("data:image/svg+xml,%3csvg xmlns='http://www.w3.org/2000/svg' viewBox='-4 -4 8 8'%3e%3ccircle r='3' fill='%23fff'/%3e%3c/svg%3e")}#mlb2-5085572.ml-form-embedContainer .ml-form-embedWrapper .ml-form-embedBody .ml-form-checkboxRow input[type=checkbox]:checked~.label-description::before,#mlb2-5085572.ml-form-embedContainer .ml-form-embedWrapper .ml-form-embedBody .ml-form-embedPermissions .ml-form-embedPermissionsOptionsCheckbox input[type=checkbox]:checked~.label-description::before,#mlb2-5085572.ml-form-embedContainer .ml-form-embedWrapper .ml-form-embedBody .ml-form-fieldRow .custom-checkbox .custom-control-input:checked~.custom-control-label::before,#mlb2-5085572.ml-form-embedContainer .ml-form-embedWrapper .ml-form-embedBody .ml-form-fieldRow .custom-radio .custom-control-input:checked~.custom-control-label::before,#mlb2-5085572.ml-form-embedContainer .ml-form-embedWrapper .ml-form-embedBody .ml-form-horizontalRow .custom-checkbox .custom-control-input:checked~.custom-control-label::before,#mlb2-5085572.ml-form-embedContainer .ml-form-embedWrapper .ml-form-embedBody .ml-form-horizontalRow .custom-radio .custom-control-input:checked~.custom-control-label::before,#mlb2-5085572.ml-form-embedContainer .ml-form-embedWrapper .ml-form-embedBody .ml-form-interestGroupsRow .ml-form-interestGroupsRowCheckbox input[type=checkbox]:checked~.label-description::before{border-color:#000!important;background-color:#000!important;color:#fff!important}#mlb2-5085572.ml-form-embedContainer .ml-form-embedWrapper .ml-form-embedBody .ml-form-fieldRow .custom-checkbox .custom-control-label::after,#mlb2-5085572.ml-form-embedContainer .ml-form-embedWrapper .ml-form-embedBody .ml-form-fieldRow .custom-checkbox .custom-control-label::before,#mlb2-5085572.ml-form-embedContainer .ml-form-embedWrapper .ml-form-embedBody .ml-form-fieldRow .custom-radio .custom-control-label::after,#mlb2-5085572.ml-form-embedContainer .ml-form-embedWrapper .ml-form-embedBody .ml-form-fieldRow .custom-radio .custom-control-label::before,#mlb2-5085572.ml-form-embedContainer .ml-form-embedWrapper .ml-form-embedBody .ml-form-horizontalRow .custom-checkbox .custom-control-label::after,#mlb2-5085572.ml-form-embedContainer .ml-form-embedWrapper .ml-form-embedBody .ml-form-horizontalRow .custom-checkbox .custom-control-label::before,#mlb2-5085572.ml-form-embedContainer .ml-form-embedWrapper .ml-form-embedBody .ml-form-horizontalRow .custom-radio .custom-control-label::after,#mlb2-5085572.ml-form-embedContainer .ml-form-embedWrapper .ml-form-embedBody .ml-form-horizontalRow .custom-radio .custom-control-label::before{top:2px;box-sizing:border-box}#mlb2-5085572.ml-form-embedContainer .ml-form-embedWrapper .ml-form-embedBody .ml-form-checkboxRow .label-description::after,#mlb2-5085572.ml-form-embedContainer .ml-form-embedWrapper .ml-form-embedBody .ml-form-checkboxRow .label-description::before,#mlb2-5085572.ml-form-embedContainer .ml-form-embedWrapper .ml-form-embedBody .ml-form-embedPermissions .ml-form-embedPermissionsOptionsCheckbox .label-description::after,#mlb2-5085572.ml-form-embedContainer .ml-form-embedWrapper .ml-form-embedBody .ml-form-embedPermissions .ml-form-embedPermissionsOptionsCheckbox .label-description::before{top:0!important;box-sizing:border-box!important}#mlb2-5085572.ml-form-embedContainer .ml-form-embedWrapper .ml-form-embedBody .ml-form-checkboxRow .label-description::after,#mlb2-5085572.ml-form-embedContainer .ml-form-embedWrapper .ml-form-embedBody .ml-form-checkboxRow .label-description::before{top:0!important;box-sizing:border-box!important}#mlb2-5085572.ml-form-embedContainer .ml-form-embedWrapper .ml-form-embedBody .ml-form-interestGroupsRow .ml-form-interestGroupsRowCheckbox .label-description::after{top:0!important;box-sizing:border-box!important;position:absolute;left:-1.5rem;display:block;width:1rem;height:1rem;content:""}#mlb2-5085572.ml-form-embedContainer .ml-form-embedWrapper .ml-form-embedBody .ml-form-interestGroupsRow .ml-form-interestGroupsRowCheckbox .label-description::before{top:0!important;box-sizing:border-box!important}#mlb2-5085572.ml-form-embedContainer .ml-form-embedWrapper .ml-form-embedBody .custom-control-label::before{position:absolute;top:4px;left:-1.5rem;display:block;width:16px;height:16px;pointer-events:none;content:"";background-color:#fff;border:#adb5bd solid 1px;border-radius:50%}#mlb2-5085572.ml-form-embedContainer .ml-form-embedWrapper .ml-form-embedBody .custom-control-label::after{position:absolute;top:2px!important;left:-1.5rem;display:block;width:1rem;height:1rem;content:""}#mlb2-5085572.ml-form-embedContainer .ml-form-embedWrapper .ml-form-embedBody .ml-form-checkboxRow .label-description::before,#mlb2-5085572.ml-form-embedContainer .ml-form-embedWrapper .ml-form-embedBody .ml-form-embedPermissions .ml-form-embedPermissionsOptionsCheckbox .label-description::before,#mlb2-5085572.ml-form-embedContainer .ml-form-embedWrapper .ml-form-embedBody .ml-form-interestGroupsRow .ml-form-interestGroupsRowCheckbox .label-description::before{position:absolute;top:4px;left:-1.5rem;display:block;width:16px;height:16px;pointer-events:none;content:"";background-color:#fff;border:#adb5bd solid 1px;border-radius:50%}#mlb2-5085572.ml-form-embedContainer .ml-form-embedWrapper .ml-form-embedBody .ml-form-embedPermissions .ml-form-embedPermissionsOptionsCheckbox .label-description::after{position:absolute;top:0!important;left:-1.5rem;display:block;width:1rem;height:1rem;content:""}#mlb2-5085572.ml-form-embedContainer .ml-form-embedWrapper .ml-form-embedBody .ml-form-checkboxRow .label-description::after{position:absolute;top:0!important;left:-1.5rem;display:block;width:1rem;height:1rem;content:""}#mlb2-5085572.ml-form-embedContainer .ml-form-embedWrapper .ml-form-embedBody .custom-radio .custom-control-label::after{background:no-repeat 50%/50% 50%}#mlb2-5085572.ml-form-embedContainer .ml-form-embedWrapper .ml-form-embedBody .custom-checkbox .custom-control-label::after,#mlb2-5085572.ml-form-embedContainer .ml-form-embedWrapper .ml-form-embedBody .ml-form-checkboxRow .label-description::after,#mlb2-5085572.ml-form-embedContainer .ml-form-embedWrapper .ml-form-embedBody .ml-form-embedPermissions .ml-form-embedPermissionsOptionsCheckbox .label-description::after,#mlb2-5085572.ml-form-embedContainer .ml-form-embedWrapper .ml-form-embedBody .ml-form-interestGroupsRow .ml-form-interestGroupsRowCheckbox .label-description::after{background:no-repeat 50%/50% 50%}#mlb2-5085572.ml-form-embedContainer .ml-form-embedWrapper .ml-form-embedBody .ml-form-fieldRow .custom-control,#mlb2-5085572.ml-form-embedContainer .ml-form-embedWrapper .ml-form-embedBody .ml-form-horizontalRow .custom-control{position:relative;display:block;min-height:1.5rem;padding-left:1.5rem}#mlb2-5085572.ml-form-embedContainer .ml-form-embedWrapper .ml-form-embedBody .ml-form-fieldRow .custom-checkbox .custom-control-input,#mlb2-5085572.ml-form-embedContainer .ml-form-embedWrapper .ml-form-embedBody .ml-form-fieldRow .custom-radio .custom-control-input,#mlb2-5085572.ml-form-embedContainer .ml-form-embedWrapper .ml-form-embedBody .ml-form-horizontalRow .custom-checkbox .custom-control-input,#mlb2-5085572.ml-form-embedContainer .ml-form-embedWrapper .ml-form-embedBody .ml-form-horizontalRow .custom-radio .custom-control-input{position:absolute;z-index:-1;opacity:0;box-sizing:border-box;padding:0}#mlb2-5085572.ml-form-embedContainer .ml-form-embedWrapper .ml-form-embedBody .ml-form-fieldRow .custom-checkbox .custom-control-label,#mlb2-5085572.ml-form-embedContainer .ml-form-embedWrapper .ml-form-embedBody .ml-form-fieldRow .custom-radio .custom-control-label,#mlb2-5085572.ml-form-embedContainer .ml-form-embedWrapper .ml-form-embedBody .ml-form-horizontalRow .custom-checkbox .custom-control-label,#mlb2-5085572.ml-form-embedContainer .ml-form-embedWrapper .ml-form-embedBody .ml-form-horizontalRow .custom-radio .custom-control-label{color:#000;font-size:12px!important;font-family:'Open Sans',Arial,Helvetica,sans-serif;line-height:22px;margin-bottom:0;position:relative;vertical-align:top;font-style:normal;font-weight:700}#mlb2-5085572.ml-form-embedContainer .ml-form-embedWrapper .ml-form-embedBody .ml-form-fieldRow .custom-select,#mlb2-5085572.ml-form-embedContainer .ml-form-embedWrapper .ml-form-embedBody .ml-form-horizontalRow .custom-select{background-color:#fff!important;color:#333!important;border-color:#ccc;border-radius:4px!important;border-style:solid!important;border-width:1px!important;font-family:'Open Sans',Arial,Helvetica,sans-serif;font-size:14px!important;line-height:20px!important;margin-bottom:0;margin-top:0;padding:10px 28px 10px 12px!important;width:100%!important;box-sizing:border-box!important;max-width:100%!important;height:auto;display:inline-block;vertical-align:middle;background:url(https://cdn.mailerlite.com/images/default/dropdown.svg) no-repeat right .75rem center/8px 10px;-webkit-appearance:none;-moz-appearance:none;appearance:none}#mlb2-5085572.ml-form-embedContainer .ml-form-embedWrapper .ml-form-embedBody .ml-form-horizontalRow{height:auto;width:100%;float:left}.ml-form-formContent.horozintalForm .ml-form-horizontalRow .ml-input-horizontal{width:70%;float:left}.ml-form-formContent.horozintalForm .ml-form-horizontalRow .ml-button-horizontal{width:30%;float:left}.ml-form-formContent.horozintalForm .ml-form-horizontalRow .ml-button-horizontal.labelsOn{padding-top:25px}.ml-form-formContent.horozintalForm .ml-form-horizontalRow .horizontal-fields{box-sizing:border-box;float:left;padding-right:10px}#mlb2-5085572.ml-form-embedContainer .ml-form-embedWrapper .ml-form-embedBody .ml-form-horizontalRow input{background-color:#fff;color:#333;border-color:#ccc;border-radius:4px;border-style:solid;border-width:1px;font-family:'Open Sans',Arial,Helvetica,sans-serif;font-size:14px;line-height:20px;margin-bottom:0;margin-top:0;padding:10px 10px;width:100%;box-sizing:border-box;overflow-y:initial}#mlb2-5085572.ml-form-embedContainer .ml-form-embedWrapper .ml-form-embedBody .ml-form-horizontalRow button{background-color:#000!important;border-color:#000;border-style:solid;border-width:1px;border-radius:4px;box-shadow:none;color:#fff!important;cursor:pointer;font-family:'Open Sans',Arial,Helvetica,sans-serif;font-size:14px!important;font-weight:700;line-height:20px;margin:0!important;padding:10px!important;width:100%;height:auto}#mlb2-5085572.ml-form-embedContainer .ml-form-embedWrapper .ml-form-embedBody .ml-form-horizontalRow button:hover{background-color:#333!important;border-color:#333!important}#mlb2-5085572.ml-form-embedContainer .ml-form-embedWrapper .ml-form-embedBody .ml-form-checkboxRow input[type=checkbox]{box-sizing:border-box;padding:0;position:absolute;z-index:-1;opacity:0;margin-top:5px;margin-left:-1.5rem;overflow:visible}#mlb2-5085572.ml-form-embedContainer .ml-form-embedWrapper .ml-form-embedBody .ml-form-checkboxRow .label-description{color:#000;display:block;font-family:'Open Sans',Arial,Helvetica,sans-serif;font-size:12px;text-align:left;margin-bottom:0;position:relative;vertical-align:top}#mlb2-5085572.ml-form-embedContainer .ml-form-embedWrapper .ml-form-embedBody .ml-form-checkboxRow label{font-weight:400;margin:0;padding:0;position:relative;display:block;min-height:24px;padding-left:24px}#mlb2-5085572.ml-form-embedContainer .ml-form-embedWrapper .ml-form-embedBody .ml-form-checkboxRow label a{color:#000;text-decoration:underline}#mlb2-5085572.ml-form-embedContainer .ml-form-embedWrapper .ml-form-embedBody .ml-form-checkboxRow label p{color:#000!important;font-family:'Open Sans',Arial,Helvetica,sans-serif!important;font-size:12px!important;font-weight:400!important;line-height:18px!important;padding:0!important;margin:0 5px 0 0!important}#mlb2-5085572.ml-form-embedContainer .ml-form-embedWrapper .ml-form-embedBody .ml-form-checkboxRow label p:last-child{margin:0}#mlb2-5085572.ml-form-embedContainer .ml-form-embedWrapper .ml-form-embedBody .ml-form-embedSubmit{margin:0 0 20px 0;float:left;width:100%}#mlb2-5085572.ml-form-embedContainer .ml-form-embedWrapper .ml-form-embedBody .ml-form-embedSubmit button{background-color:#000!important;border:none!important;border-radius:4px!important;box-shadow:none!important;color:#fff!important;cursor:pointer;font-family:'Open Sans',Arial,Helvetica,sans-serif!important;font-size:14px!important;font-weight:700!important;line-height:21px!important;height:auto;padding:10px!important;width:100%!important;box-sizing:border-box!important}#mlb2-5085572.ml-form-embedContainer .ml-form-embedWrapper .ml-form-embedBody .ml-form-embedSubmit button.loading{display:none}#mlb2-5085572.ml-form-embedContainer .ml-form-embedWrapper .ml-form-embedBody .ml-form-embedSubmit button:hover{background-color:#333!important}.ml-subscribe-close{width:30px;height:30px;background:url(https://cdn.mailerlite.com/images/default/modal_close.png) no-repeat;background-size:30px;cursor:pointer;margin-top:-10px;margin-right:-10px;position:absolute;top:0;right:0}.ml-error input,.ml-error select,.ml-error textarea{border-color:red!important}.ml-error .custom-checkbox-radio-list{border:1px solid red!important;border-radius:4px;padding:10px}.ml-error .label-description,.ml-error .label-description p,.ml-error .label-description p a,.ml-error label:first-child{color:red!important}#mlb2-5085572.ml-form-embedContainer .ml-form-embedWrapper .ml-form-embedBody .ml-form-checkboxRow.ml-error .label-description p,#mlb2-5085572.ml-form-embedContainer .ml-form-embedWrapper .ml-form-embedBody .ml-form-checkboxRow.ml-error .label-description p:first-letter{color:red!important}@media only screen and (max-width:400px){.ml-form-embedWrapper.embedDefault,.ml-form-embedWrapper.embedPopup{width:100%!important}.ml-form-formContent.horozintalForm{float:left!important}.ml-form-formContent.horozintalForm .ml-form-horizontalRow{height:auto!important;width:100%!important;float:left!important}.ml-form-formContent.horozintalForm .ml-form-horizontalRow .ml-input-horizontal{width:100%!important}.ml-form-formContent.horozintalForm .ml-form-horizontalRow .ml-input-horizontal>div{padding-right:0!important;padding-bottom:10px}.ml-form-formContent.horozintalForm .ml-button-horizontal{width:100%!important}.ml-form-formContent.horozintalForm .ml-button-horizontal.labelsOn{padding-top:0!important}}
function ml_webform_success_5085572(){var r=ml_jQuery||jQuery;r(".ml-subscribe-form-5085572 .row-success").show(),r(".ml-subscribe-form-5085572 .row-form").hide()}