Who are we?
I am Tom, and I live and farm on an organic olive orchard in Portugal.
We make castille soaps using olive oil harvested from our land. 



Since 2017 I have been making soaps for myself, friends and family using traditional cold process recipes. In 2019 I started to experiment with balms and other cosmetics products which has brought me to where I am today with OrganicSoap.org

At our farm as well as olive trees and bees we have pigeons, chickens, grape vines for wine as well as a wide range of fruit and nut trees to create a rich and biodiverse ecosystem in which to live. I believe that the health of our surroundings is reflected in our own health and to look after ourselves we need to first look after the land in which we live. 

How do I make ethical soap?
My core ethos is Local, Local, Local! Which means that most of the ingredients come from Portugal, and as much as possible from our farm or local organic farms. Adhering to this ethos means that a low carbon footprint is built in to the business model from the beginning.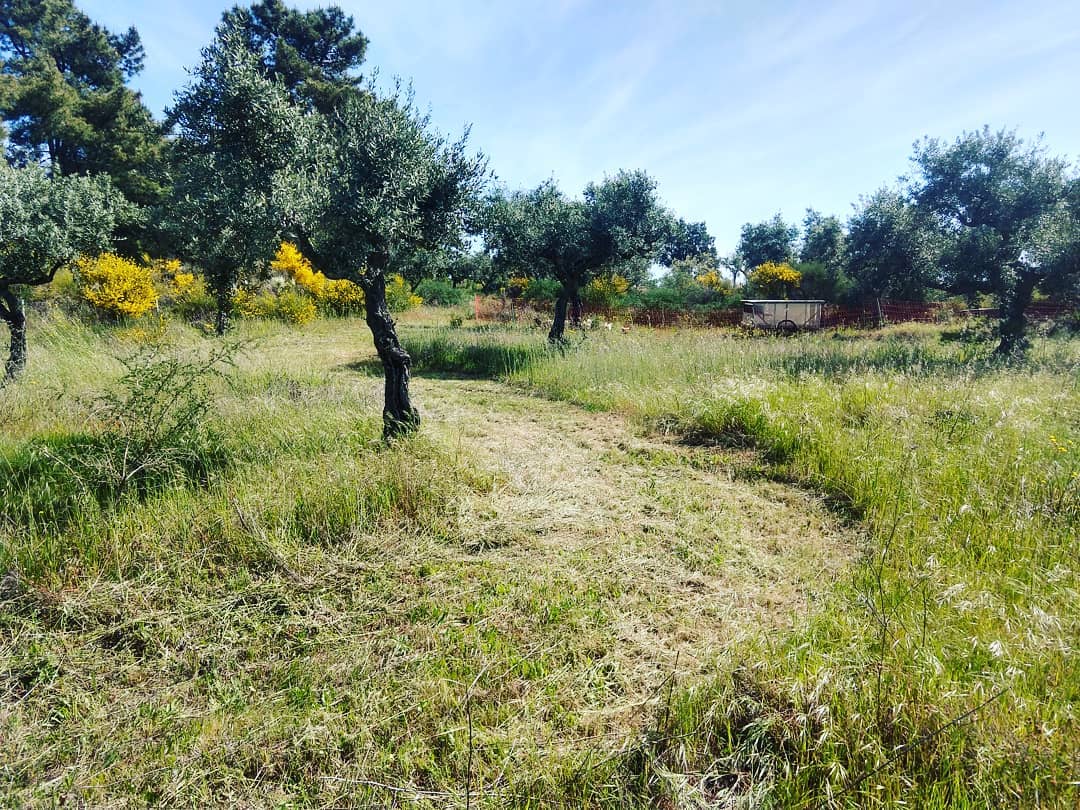 - Pictured above - our olive orchard with chicken tractor in the distance

Our olive oil and beeswax comes from our farm (until I use it all) and then I buy from local organic producers, so no agricultural chemicals come anywhere near our cosmetics!

If you want to stay up to date with our latest news of new products, updates about the farm the subscribe to our news letter! We promise to send no more than one letter per month (if that)


@import url(https://static.mailerlite.com/assets/plugins/groot/modules/includes/groot_fonts/import.css?version=1637666);
.ml-form-embedSubmitLoad{display:inline-block;width:20px;height:20px}.g-recaptcha{transform:scale(1);-webkit-transform:scale(1);transform-origin:0 0;-webkit-transform-origin:0 0}.sr-only{position:absolute;width:1px;height:1px;padding:0;margin:-1px;overflow:hidden;clip:rect(0,0,0,0);border:0}.ml-form-embedSubmitLoad:after{content:" ";display:block;width:11px;height:11px;margin:1px;border-radius:50%;border:4px solid #fff;border-color:#fff #fff #fff transparent;animation:ml-form-embedSubmitLoad 1.2s linear infinite}@keyframes ml-form-embedSubmitLoad{0%{transform:rotate(0)}100%{transform:rotate(360deg)}}#mlb2-5085572.ml-form-embedContainer{box-sizing:border-box;display:table;margin:0 auto;position:static;width:100%!important}#mlb2-5085572.ml-form-embedContainer button,#mlb2-5085572.ml-form-embedContainer h4,#mlb2-5085572.ml-form-embedContainer p,#mlb2-5085572.ml-form-embedContainer span{text-transform:none!important;letter-spacing:normal!important}#mlb2-5085572.ml-form-embedContainer .ml-form-embedWrapper{background-color:#f6f6f6;border-width:0;border-color:transparent;border-radius:4px;border-style:solid;box-sizing:border-box;display:inline-block!important;margin:0;padding:0;position:relative}#mlb2-5085572.ml-form-embedContainer .ml-form-embedWrapper.embedDefault,#mlb2-5085572.ml-form-embedContainer .ml-form-embedWrapper.embedPopup{width:400px}#mlb2-5085572.ml-form-embedContainer .ml-form-embedWrapper.embedForm{max-width:400px;width:100%}#mlb2-5085572.ml-form-embedContainer .ml-form-align-left{text-align:left}#mlb2-5085572.ml-form-embedContainer .ml-form-align-center{text-align:center}#mlb2-5085572.ml-form-embedContainer .ml-form-align-default{display:table-cell!important;vertical-align:middle!important;text-align:center!important}#mlb2-5085572.ml-form-embedContainer .ml-form-align-right{text-align:right}#mlb2-5085572.ml-form-embedContainer .ml-form-embedWrapper .ml-form-embedHeader img{border-top-left-radius:4px;border-top-right-radius:4px;height:auto;margin:0 auto!important;max-width:100%;width:undefinedpx}#mlb2-5085572.ml-form-embedContainer .ml-form-embedWrapper .ml-form-embedBody,#mlb2-5085572.ml-form-embedContainer .ml-form-embedWrapper .ml-form-successBody{padding:20px 20px 0 20px}#mlb2-5085572.ml-form-embedContainer .ml-form-embedWrapper .ml-form-embedBody.ml-form-embedBodyHorizontal{padding-bottom:0}#mlb2-5085572.ml-form-embedContainer .ml-form-embedWrapper .ml-form-embedBody .ml-form-embedContent,#mlb2-5085572.ml-form-embedContainer .ml-form-embedWrapper .ml-form-successBody .ml-form-successContent{text-align:left;margin:0 0 20px 0}#mlb2-5085572.ml-form-embedContainer .ml-form-embedWrapper .ml-form-embedBody .ml-form-embedContent h4,#mlb2-5085572.ml-form-embedContainer .ml-form-embedWrapper .ml-form-successBody .ml-form-successContent h4{color:#000;font-family:'Open Sans',Arial,Helvetica,sans-serif;font-size:30px;font-weight:400;margin:0 0 10px 0;text-align:left;word-break:break-word}#mlb2-5085572.ml-form-embedContainer .ml-form-embedWrapper .ml-form-embedBody .ml-form-embedContent p,#mlb2-5085572.ml-form-embedContainer .ml-form-embedWrapper .ml-form-successBody .ml-form-successContent p{color:#000;font-family:'Open Sans',Arial,Helvetica,sans-serif;font-size:14px;font-weight:400;line-height:20px;margin:0 0 10px 0;text-align:left}#mlb2-5085572.ml-form-embedContainer .ml-form-embedWrapper .ml-form-embedBody .ml-form-embedContent ol,#mlb2-5085572.ml-form-embedContainer .ml-form-embedWrapper .ml-form-embedBody .ml-form-embedContent ul,#mlb2-5085572.ml-form-embedContainer .ml-form-embedWrapper .ml-form-successBody .ml-form-successContent ol,#mlb2-5085572.ml-form-embedContainer .ml-form-embedWrapper .ml-form-successBody .ml-form-successContent ul{color:#000;font-family:'Open Sans',Arial,Helvetica,sans-serif;font-size:14px}#mlb2-5085572.ml-form-embedContainer .ml-form-embedWrapper .ml-form-embedBody .ml-form-embedContent ol ol,#mlb2-5085572.ml-form-embedContainer .ml-form-embedWrapper .ml-form-successBody .ml-form-successContent ol ol{list-style-type:lower-alpha}#mlb2-5085572.ml-form-embedContainer .ml-form-embedWrapper .ml-form-embedBody .ml-form-embedContent ol ol ol,#mlb2-5085572.ml-form-embedContainer .ml-form-embedWrapper .ml-form-successBody .ml-form-successContent ol ol ol{list-style-type:lower-roman}#mlb2-5085572.ml-form-embedContainer .ml-form-embedWrapper .ml-form-embedBody .ml-form-embedContent p a,#mlb2-5085572.ml-form-embedContainer .ml-form-embedWrapper .ml-form-successBody .ml-form-successContent p a{color:#000;text-decoration:underline}#mlb2-5085572.ml-form-embedContainer .ml-form-embedWrapper .ml-block-form .ml-field-group{text-align:left!important}#mlb2-5085572.ml-form-embedContainer .ml-form-embedWrapper .ml-block-form .ml-field-group label{margin-bottom:5px;color:#333;font-size:14px;font-family:'Open Sans',Arial,Helvetica,sans-serif;font-weight:700;font-style:normal;text-decoration:none;display:inline-block;line-height:20px}#mlb2-5085572.ml-form-embedContainer .ml-form-embedWrapper .ml-form-embedBody .ml-form-embedContent p:last-child,#mlb2-5085572.ml-form-embedContainer .ml-form-embedWrapper .ml-form-successBody .ml-form-successContent p:last-child{margin:0}#mlb2-5085572.ml-form-embedContainer .ml-form-embedWrapper .ml-form-embedBody form{margin:0;width:100%}#mlb2-5085572.ml-form-embedContainer .ml-form-embedWrapper .ml-form-embedBody .ml-form-checkboxRow,#mlb2-5085572.ml-form-embedContainer .ml-form-embedWrapper .ml-form-embedBody .ml-form-formContent{margin:0 0 20px 0;width:100%}#mlb2-5085572.ml-form-embedContainer .ml-form-embedWrapper .ml-form-embedBody .ml-form-checkboxRow{float:left}#mlb2-5085572.ml-form-embedContainer .ml-form-embedWrapper .ml-form-embedBody .ml-form-formContent.horozintalForm{margin:0;padding:0 0 20px 0;width:100%;height:auto;float:left}#mlb2-5085572.ml-form-embedContainer .ml-form-embedWrapper .ml-form-embedBody .ml-form-fieldRow{margin:0 0 10px 0;width:100%}#mlb2-5085572.ml-form-embedContainer .ml-form-embedWrapper .ml-form-embedBody .ml-form-fieldRow.ml-last-item{margin:0}#mlb2-5085572.ml-form-embedContainer .ml-form-embedWrapper .ml-form-embedBody .ml-form-fieldRow.ml-formfieldHorizintal{margin:0}#mlb2-5085572.ml-form-embedContainer .ml-form-embedWrapper .ml-form-embedBody .ml-form-fieldRow input{background-color:#fff!important;color:#333!important;border-color:#ccc;border-radius:4px!important;border-style:solid!important;border-width:1px!important;font-family:'Open Sans',Arial,Helvetica,sans-serif;font-size:14px!important;height:auto;line-height:21px!important;margin-bottom:0;margin-top:0;margin-left:0;margin-right:0;padding:10px 10px!important;width:100%!important;box-sizing:border-box!important;max-width:100%!important}#mlb2-5085572.ml-form-embedContainer .ml-form-embedWrapper .ml-form-embedBody .ml-form-fieldRow input::-webkit-input-placeholder,#mlb2-5085572.ml-form-embedContainer .ml-form-embedWrapper .ml-form-embedBody .ml-form-horizontalRow input::-webkit-input-placeholder{color:#333}#mlb2-5085572.ml-form-embedContainer .ml-form-embedWrapper .ml-form-embedBody .ml-form-fieldRow input::-moz-placeholder,#mlb2-5085572.ml-form-embedContainer .ml-form-embedWrapper .ml-form-embedBody .ml-form-horizontalRow input::-moz-placeholder{color:#333}#mlb2-5085572.ml-form-embedContainer .ml-form-embedWrapper .ml-form-embedBody .ml-form-fieldRow input:-ms-input-placeholder,#mlb2-5085572.ml-form-embedContainer .ml-form-embedWrapper .ml-form-embedBody .ml-form-horizontalRow input:-ms-input-placeholder{color:#333}#mlb2-5085572.ml-form-embedContainer .ml-form-embedWrapper .ml-form-embedBody .ml-form-fieldRow input:-moz-placeholder,#mlb2-5085572.ml-form-embedContainer .ml-form-embedWrapper .ml-form-embedBody .ml-form-horizontalRow input:-moz-placeholder{color:#333}#mlb2-5085572.ml-form-embedContainer .ml-form-embedWrapper .ml-form-embedBody .ml-form-fieldRow textarea,#mlb2-5085572.ml-form-embedContainer .ml-form-embedWrapper .ml-form-embedBody .ml-form-horizontalRow textarea{background-color:#fff!important;color:#333!important;border-color:#ccc;border-radius:4px!important;border-style:solid!important;border-width:1px!important;font-family:'Open Sans',Arial,Helvetica,sans-serif;font-size:14px!important;height:auto;line-height:21px!important;margin-bottom:0;margin-top:0;padding:10px 10px!important;width:100%!important;box-sizing:border-box!important;max-width:100%!important}#mlb2-5085572.ml-form-embedContainer .ml-form-embedWrapper .ml-form-embedBody .ml-form-checkboxRow .label-description::before,#mlb2-5085572.ml-form-embedContainer .ml-form-embedWrapper .ml-form-embedBody .ml-form-embedPermissions .ml-form-embedPermissionsOptionsCheckbox .label-description::before,#mlb2-5085572.ml-form-embedContainer .ml-form-embedWrapper .ml-form-embedBody .ml-form-fieldRow .custom-checkbox .custom-control-label::before,#mlb2-5085572.ml-form-embedContainer .ml-form-embedWrapper .ml-form-embedBody .ml-form-fieldRow .custom-radio .custom-control-label::before,#mlb2-5085572.ml-form-embedContainer .ml-form-embedWrapper .ml-form-embedBody .ml-form-horizontalRow .custom-checkbox .custom-control-label::before,#mlb2-5085572.ml-form-embedContainer .ml-form-embedWrapper .ml-form-embedBody .ml-form-horizontalRow .custom-radio .custom-control-label::before,#mlb2-5085572.ml-form-embedContainer .ml-form-embedWrapper .ml-form-embedBody .ml-form-interestGroupsRow .ml-form-interestGroupsRowCheckbox .label-description::before{border-color:#ccc!important;background-color:#fff!important}#mlb2-5085572.ml-form-embedContainer .ml-form-embedWrapper .ml-form-embedBody .ml-form-fieldRow input.custom-control-input[type=checkbox]{box-sizing:border-box;padding:0;position:absolute;z-index:-1;opacity:0;margin-top:5px;margin-left:-1.5rem;overflow:visible}#mlb2-5085572.ml-form-embedContainer .ml-form-embedWrapper .ml-form-embedBody .ml-form-checkboxRow .label-description::before,#mlb2-5085572.ml-form-embedContainer .ml-form-embedWrapper .ml-form-embedBody .ml-form-embedPermissions .ml-form-embedPermissionsOptionsCheckbox .label-description::before,#mlb2-5085572.ml-form-embedContainer .ml-form-embedWrapper .ml-form-embedBody .ml-form-fieldRow .custom-checkbox .custom-control-label::before,#mlb2-5085572.ml-form-embedContainer .ml-form-embedWrapper .ml-form-embedBody .ml-form-horizontalRow .custom-checkbox .custom-control-label::before,#mlb2-5085572.ml-form-embedContainer .ml-form-embedWrapper .ml-form-embedBody .ml-form-interestGroupsRow .ml-form-interestGroupsRowCheckbox .label-description::before{border-radius:4px!important}#mlb2-5085572.ml-form-embedContainer .ml-form-embedWrapper .ml-form-embedBody .ml-form-checkboxRow input[type=checkbox]:checked~.label-description::after,#mlb2-5085572.ml-form-embedContainer .ml-form-embedWrapper .ml-form-embedBody .ml-form-embedPermissions .ml-form-embedPermissionsOptionsCheckbox input[type=checkbox]:checked~.label-description::after,#mlb2-5085572.ml-form-embedContainer .ml-form-embedWrapper .ml-form-embedBody .ml-form-fieldRow .custom-checkbox .custom-control-input:checked~.custom-control-label::after,#mlb2-5085572.ml-form-embedContainer .ml-form-embedWrapper .ml-form-embedBody .ml-form-horizontalRow .custom-checkbox .custom-control-input:checked~.custom-control-label::after,#mlb2-5085572.ml-form-embedContainer .ml-form-embedWrapper .ml-form-embedBody .ml-form-interestGroupsRow .ml-form-interestGroupsRowCheckbox input[type=checkbox]:checked~.label-description::after{background-image:url("data:image/svg+xml,%3csvg xmlns='http://www.w3.org/2000/svg' viewBox='0 0 8 8'%3e%3cpath fill='%23fff' d='M6.564.75l-3.59 3.612-1.538-1.55L0 4.26 2.974 7.25 8 2.193z'/%3e%3c/svg%3e")}#mlb2-5085572.ml-form-embedContainer .ml-form-embedWrapper .ml-form-embedBody .ml-form-fieldRow .custom-radio .custom-control-input:checked~.custom-control-label::after{background-image:url("data:image/svg+xml,%3csvg xmlns='http://www.w3.org/2000/svg' viewBox='-4 -4 8 8'%3e%3ccircle r='3' fill='%23fff'/%3e%3c/svg%3e")}#mlb2-5085572.ml-form-embedContainer .ml-form-embedWrapper .ml-form-embedBody .ml-form-checkboxRow input[type=checkbox]:checked~.label-description::before,#mlb2-5085572.ml-form-embedContainer .ml-form-embedWrapper .ml-form-embedBody .ml-form-embedPermissions .ml-form-embedPermissionsOptionsCheckbox input[type=checkbox]:checked~.label-description::before,#mlb2-5085572.ml-form-embedContainer .ml-form-embedWrapper .ml-form-embedBody .ml-form-fieldRow .custom-checkbox .custom-control-input:checked~.custom-control-label::before,#mlb2-5085572.ml-form-embedContainer .ml-form-embedWrapper .ml-form-embedBody .ml-form-fieldRow .custom-radio .custom-control-input:checked~.custom-control-label::before,#mlb2-5085572.ml-form-embedContainer .ml-form-embedWrapper .ml-form-embedBody .ml-form-horizontalRow .custom-checkbox .custom-control-input:checked~.custom-control-label::before,#mlb2-5085572.ml-form-embedContainer .ml-form-embedWrapper .ml-form-embedBody .ml-form-horizontalRow .custom-radio .custom-control-input:checked~.custom-control-label::before,#mlb2-5085572.ml-form-embedContainer .ml-form-embedWrapper .ml-form-embedBody .ml-form-interestGroupsRow .ml-form-interestGroupsRowCheckbox input[type=checkbox]:checked~.label-description::before{border-color:#000!important;background-color:#000!important;color:#fff!important}#mlb2-5085572.ml-form-embedContainer .ml-form-embedWrapper .ml-form-embedBody .ml-form-fieldRow .custom-checkbox .custom-control-label::after,#mlb2-5085572.ml-form-embedContainer .ml-form-embedWrapper .ml-form-embedBody .ml-form-fieldRow .custom-checkbox .custom-control-label::before,#mlb2-5085572.ml-form-embedContainer .ml-form-embedWrapper .ml-form-embedBody .ml-form-fieldRow .custom-radio .custom-control-label::after,#mlb2-5085572.ml-form-embedContainer .ml-form-embedWrapper .ml-form-embedBody .ml-form-fieldRow .custom-radio .custom-control-label::before,#mlb2-5085572.ml-form-embedContainer .ml-form-embedWrapper .ml-form-embedBody .ml-form-horizontalRow .custom-checkbox .custom-control-label::after,#mlb2-5085572.ml-form-embedContainer .ml-form-embedWrapper .ml-form-embedBody .ml-form-horizontalRow .custom-checkbox .custom-control-label::before,#mlb2-5085572.ml-form-embedContainer .ml-form-embedWrapper .ml-form-embedBody .ml-form-horizontalRow .custom-radio .custom-control-label::after,#mlb2-5085572.ml-form-embedContainer .ml-form-embedWrapper .ml-form-embedBody .ml-form-horizontalRow .custom-radio .custom-control-label::before{top:2px;box-sizing:border-box}#mlb2-5085572.ml-form-embedContainer .ml-form-embedWrapper .ml-form-embedBody .ml-form-checkboxRow .label-description::after,#mlb2-5085572.ml-form-embedContainer .ml-form-embedWrapper .ml-form-embedBody .ml-form-checkboxRow .label-description::before,#mlb2-5085572.ml-form-embedContainer .ml-form-embedWrapper .ml-form-embedBody .ml-form-embedPermissions .ml-form-embedPermissionsOptionsCheckbox .label-description::after,#mlb2-5085572.ml-form-embedContainer .ml-form-embedWrapper .ml-form-embedBody .ml-form-embedPermissions .ml-form-embedPermissionsOptionsCheckbox .label-description::before{top:0!important;box-sizing:border-box!important}#mlb2-5085572.ml-form-embedContainer .ml-form-embedWrapper .ml-form-embedBody .ml-form-checkboxRow .label-description::after,#mlb2-5085572.ml-form-embedContainer .ml-form-embedWrapper .ml-form-embedBody .ml-form-checkboxRow .label-description::before{top:0!important;box-sizing:border-box!important}#mlb2-5085572.ml-form-embedContainer .ml-form-embedWrapper .ml-form-embedBody .ml-form-interestGroupsRow .ml-form-interestGroupsRowCheckbox .label-description::after{top:0!important;box-sizing:border-box!important;position:absolute;left:-1.5rem;display:block;width:1rem;height:1rem;content:""}#mlb2-5085572.ml-form-embedContainer .ml-form-embedWrapper .ml-form-embedBody .ml-form-interestGroupsRow .ml-form-interestGroupsRowCheckbox .label-description::before{top:0!important;box-sizing:border-box!important}#mlb2-5085572.ml-form-embedContainer .ml-form-embedWrapper .ml-form-embedBody .custom-control-label::before{position:absolute;top:4px;left:-1.5rem;display:block;width:16px;height:16px;pointer-events:none;content:"";background-color:#fff;border:#adb5bd solid 1px;border-radius:50%}#mlb2-5085572.ml-form-embedContainer .ml-form-embedWrapper .ml-form-embedBody .custom-control-label::after{position:absolute;top:2px!important;left:-1.5rem;display:block;width:1rem;height:1rem;content:""}#mlb2-5085572.ml-form-embedContainer .ml-form-embedWrapper .ml-form-embedBody .ml-form-checkboxRow .label-description::before,#mlb2-5085572.ml-form-embedContainer .ml-form-embedWrapper .ml-form-embedBody .ml-form-embedPermissions .ml-form-embedPermissionsOptionsCheckbox .label-description::before,#mlb2-5085572.ml-form-embedContainer .ml-form-embedWrapper .ml-form-embedBody .ml-form-interestGroupsRow .ml-form-interestGroupsRowCheckbox .label-description::before{position:absolute;top:4px;left:-1.5rem;display:block;width:16px;height:16px;pointer-events:none;content:"";background-color:#fff;border:#adb5bd solid 1px;border-radius:50%}#mlb2-5085572.ml-form-embedContainer .ml-form-embedWrapper .ml-form-embedBody .ml-form-embedPermissions .ml-form-embedPermissionsOptionsCheckbox .label-description::after{position:absolute;top:0!important;left:-1.5rem;display:block;width:1rem;height:1rem;content:""}#mlb2-5085572.ml-form-embedContainer .ml-form-embedWrapper .ml-form-embedBody .ml-form-checkboxRow .label-description::after{position:absolute;top:0!important;left:-1.5rem;display:block;width:1rem;height:1rem;content:""}#mlb2-5085572.ml-form-embedContainer .ml-form-embedWrapper .ml-form-embedBody .custom-radio .custom-control-label::after{background:no-repeat 50%/50% 50%}#mlb2-5085572.ml-form-embedContainer .ml-form-embedWrapper .ml-form-embedBody .custom-checkbox .custom-control-label::after,#mlb2-5085572.ml-form-embedContainer .ml-form-embedWrapper .ml-form-embedBody .ml-form-checkboxRow .label-description::after,#mlb2-5085572.ml-form-embedContainer .ml-form-embedWrapper .ml-form-embedBody .ml-form-embedPermissions .ml-form-embedPermissionsOptionsCheckbox .label-description::after,#mlb2-5085572.ml-form-embedContainer .ml-form-embedWrapper .ml-form-embedBody .ml-form-interestGroupsRow .ml-form-interestGroupsRowCheckbox .label-description::after{background:no-repeat 50%/50% 50%}#mlb2-5085572.ml-form-embedContainer .ml-form-embedWrapper .ml-form-embedBody .ml-form-fieldRow .custom-control,#mlb2-5085572.ml-form-embedContainer .ml-form-embedWrapper .ml-form-embedBody .ml-form-horizontalRow .custom-control{position:relative;display:block;min-height:1.5rem;padding-left:1.5rem}#mlb2-5085572.ml-form-embedContainer .ml-form-embedWrapper .ml-form-embedBody .ml-form-fieldRow .custom-checkbox .custom-control-input,#mlb2-5085572.ml-form-embedContainer .ml-form-embedWrapper .ml-form-embedBody .ml-form-fieldRow .custom-radio .custom-control-input,#mlb2-5085572.ml-form-embedContainer .ml-form-embedWrapper .ml-form-embedBody .ml-form-horizontalRow .custom-checkbox .custom-control-input,#mlb2-5085572.ml-form-embedContainer .ml-form-embedWrapper .ml-form-embedBody .ml-form-horizontalRow .custom-radio .custom-control-input{position:absolute;z-index:-1;opacity:0;box-sizing:border-box;padding:0}#mlb2-5085572.ml-form-embedContainer .ml-form-embedWrapper .ml-form-embedBody .ml-form-fieldRow .custom-checkbox .custom-control-label,#mlb2-5085572.ml-form-embedContainer .ml-form-embedWrapper .ml-form-embedBody .ml-form-fieldRow .custom-radio .custom-control-label,#mlb2-5085572.ml-form-embedContainer .ml-form-embedWrapper .ml-form-embedBody .ml-form-horizontalRow .custom-checkbox .custom-control-label,#mlb2-5085572.ml-form-embedContainer .ml-form-embedWrapper .ml-form-embedBody .ml-form-horizontalRow .custom-radio .custom-control-label{color:#000;font-size:12px!important;font-family:'Open Sans',Arial,Helvetica,sans-serif;line-height:22px;margin-bottom:0;position:relative;vertical-align:top;font-style:normal;font-weight:700}#mlb2-5085572.ml-form-embedContainer .ml-form-embedWrapper .ml-form-embedBody .ml-form-fieldRow .custom-select,#mlb2-5085572.ml-form-embedContainer .ml-form-embedWrapper .ml-form-embedBody .ml-form-horizontalRow .custom-select{background-color:#fff!important;color:#333!important;border-color:#ccc;border-radius:4px!important;border-style:solid!important;border-width:1px!important;font-family:'Open Sans',Arial,Helvetica,sans-serif;font-size:14px!important;line-height:20px!important;margin-bottom:0;margin-top:0;padding:10px 28px 10px 12px!important;width:100%!important;box-sizing:border-box!important;max-width:100%!important;height:auto;display:inline-block;vertical-align:middle;background:url(https://cdn.mailerlite.com/images/default/dropdown.svg) no-repeat right .75rem center/8px 10px;-webkit-appearance:none;-moz-appearance:none;appearance:none}#mlb2-5085572.ml-form-embedContainer .ml-form-embedWrapper .ml-form-embedBody .ml-form-horizontalRow{height:auto;width:100%;float:left}.ml-form-formContent.horozintalForm .ml-form-horizontalRow .ml-input-horizontal{width:70%;float:left}.ml-form-formContent.horozintalForm .ml-form-horizontalRow .ml-button-horizontal{width:30%;float:left}.ml-form-formContent.horozintalForm .ml-form-horizontalRow .ml-button-horizontal.labelsOn{padding-top:25px}.ml-form-formContent.horozintalForm .ml-form-horizontalRow .horizontal-fields{box-sizing:border-box;float:left;padding-right:10px}#mlb2-5085572.ml-form-embedContainer .ml-form-embedWrapper .ml-form-embedBody .ml-form-horizontalRow input{background-color:#fff;color:#333;border-color:#ccc;border-radius:4px;border-style:solid;border-width:1px;font-family:'Open Sans',Arial,Helvetica,sans-serif;font-size:14px;line-height:20px;margin-bottom:0;margin-top:0;padding:10px 10px;width:100%;box-sizing:border-box;overflow-y:initial}#mlb2-5085572.ml-form-embedContainer .ml-form-embedWrapper .ml-form-embedBody .ml-form-horizontalRow button{background-color:#000!important;border-color:#000;border-style:solid;border-width:1px;border-radius:4px;box-shadow:none;color:#fff!important;cursor:pointer;font-family:'Open Sans',Arial,Helvetica,sans-serif;font-size:14px!important;font-weight:700;line-height:20px;margin:0!important;padding:10px!important;width:100%;height:auto}#mlb2-5085572.ml-form-embedContainer .ml-form-embedWrapper .ml-form-embedBody .ml-form-horizontalRow button:hover{background-color:#333!important;border-color:#333!important}#mlb2-5085572.ml-form-embedContainer .ml-form-embedWrapper .ml-form-embedBody .ml-form-checkboxRow input[type=checkbox]{box-sizing:border-box;padding:0;position:absolute;z-index:-1;opacity:0;margin-top:5px;margin-left:-1.5rem;overflow:visible}#mlb2-5085572.ml-form-embedContainer .ml-form-embedWrapper .ml-form-embedBody .ml-form-checkboxRow .label-description{color:#000;display:block;font-family:'Open Sans',Arial,Helvetica,sans-serif;font-size:12px;text-align:left;margin-bottom:0;position:relative;vertical-align:top}#mlb2-5085572.ml-form-embedContainer .ml-form-embedWrapper .ml-form-embedBody .ml-form-checkboxRow label{font-weight:400;margin:0;padding:0;position:relative;display:block;min-height:24px;padding-left:24px}#mlb2-5085572.ml-form-embedContainer .ml-form-embedWrapper .ml-form-embedBody .ml-form-checkboxRow label a{color:#000;text-decoration:underline}#mlb2-5085572.ml-form-embedContainer .ml-form-embedWrapper .ml-form-embedBody .ml-form-checkboxRow label p{color:#000!important;font-family:'Open Sans',Arial,Helvetica,sans-serif!important;font-size:12px!important;font-weight:400!important;line-height:18px!important;padding:0!important;margin:0 5px 0 0!important}#mlb2-5085572.ml-form-embedContainer .ml-form-embedWrapper .ml-form-embedBody .ml-form-checkboxRow label p:last-child{margin:0}#mlb2-5085572.ml-form-embedContainer .ml-form-embedWrapper .ml-form-embedBody .ml-form-embedSubmit{margin:0 0 20px 0;float:left;width:100%}#mlb2-5085572.ml-form-embedContainer .ml-form-embedWrapper .ml-form-embedBody .ml-form-embedSubmit button{background-color:#000!important;border:none!important;border-radius:4px!important;box-shadow:none!important;color:#fff!important;cursor:pointer;font-family:'Open Sans',Arial,Helvetica,sans-serif!important;font-size:14px!important;font-weight:700!important;line-height:21px!important;height:auto;padding:10px!important;width:100%!important;box-sizing:border-box!important}#mlb2-5085572.ml-form-embedContainer .ml-form-embedWrapper .ml-form-embedBody .ml-form-embedSubmit button.loading{display:none}#mlb2-5085572.ml-form-embedContainer .ml-form-embedWrapper .ml-form-embedBody .ml-form-embedSubmit button:hover{background-color:#333!important}.ml-subscribe-close{width:30px;height:30px;background:url(https://cdn.mailerlite.com/images/default/modal_close.png) no-repeat;background-size:30px;cursor:pointer;margin-top:-10px;margin-right:-10px;position:absolute;top:0;right:0}.ml-error input,.ml-error select,.ml-error textarea{border-color:red!important}.ml-error .custom-checkbox-radio-list{border:1px solid red!important;border-radius:4px;padding:10px}.ml-error .label-description,.ml-error .label-description p,.ml-error .label-description p a,.ml-error label:first-child{color:red!important}#mlb2-5085572.ml-form-embedContainer .ml-form-embedWrapper .ml-form-embedBody .ml-form-checkboxRow.ml-error .label-description p,#mlb2-5085572.ml-form-embedContainer .ml-form-embedWrapper .ml-form-embedBody .ml-form-checkboxRow.ml-error .label-description p:first-letter{color:red!important}@media only screen and (max-width:400px){.ml-form-embedWrapper.embedDefault,.ml-form-embedWrapper.embedPopup{width:100%!important}.ml-form-formContent.horozintalForm{float:left!important}.ml-form-formContent.horozintalForm .ml-form-horizontalRow{height:auto!important;width:100%!important;float:left!important}.ml-form-formContent.horozintalForm .ml-form-horizontalRow .ml-input-horizontal{width:100%!important}.ml-form-formContent.horozintalForm .ml-form-horizontalRow .ml-input-horizontal>div{padding-right:0!important;padding-bottom:10px}.ml-form-formContent.horozintalForm .ml-button-horizontal{width:100%!important}.ml-form-formContent.horozintalForm .ml-button-horizontal.labelsOn{padding-top:0!important}}
function ml_webform_success_5085572(){var r=ml_jQuery||jQuery;r(".ml-subscribe-form-5085572 .row-success").show(),r(".ml-subscribe-form-5085572 .row-form").hide()}